Fragments of Peace in a World at War
by John Candler Cobb, MD, MPH and Renny Russell
143 Pages
ISBN: 978-0976053958
Hardcover $29.95
Softcover $19.95

In photographs and poetry, Fragments of Peace in a World at War takes the reader on an emotional journey behind the front lines of World War II in the Middle East, North Africa, and Italy. Jock Cobb registered as a conscientious cbjector during the war and volunteered with the American Field Service Ambulance Corps. A student of famed photographer Laura Gilpin, he converted his ambulance into a field darkroom and returned home with more than a thousand black-and-white negatives that documented his experience on the front lines. After the war, Cobb immersed himself in medical school, family, and his career, while his wartime negatives sat in a box for sixty years. In the past decade, Cobb re-opened the box and the difficult memories that the images evoked. The result is Fragments of Peace in a World at War, a collection of 107 photographs described in poetry and narrative through the voices of Cobb and his longtime friend and fellow ambulance driver, Charles Edwards. A unique perspective on World War II, Cobb's book is a priceless contribution to the fields of photography, history, and peace studies that will benefit those who seek to understand the enduring consequences of war.
Reviews
"Jock Cobb and I were ambulance drivers in the front lines during World War II, both having enlisted with a little-known organization called the American Field Service. His photos, often fearsome, sometimes heartwarming, offer us fascinating insights into the nature of warfare. Cobb succeeded in capturing dramatically both the military and civilian aspects of the war. Having now gained a much broader perspective on those events I find that these photos, with their accompanying poetic lines, speak to me even more than my memories of that time when our boots were actually in the mud. The reader who is drawn into these pages will be richly rewarded." - Forrest Williams, Professor Emeritus of Philosophy, University of Colorado
"For more than sixty years, Jock Cobb's WWII photographs from North Africa and Italy sat in a box, the landscapes and human faces of war out of sight but not out of mind. Using the ambulance he drove for the American Field Service as a mobile darkroom, Cobb had preserved his life on the frontlines in stunning photos that he and his son chose for the book and framed with commentary and poetry.
Cobb captures daily scenes of war in photos of the vast Syrian-Iraqi desert, in the bustling Lebanese marketplaces, and in Italian architecture blown to bits. Other images remind viewers of the often harsh and sometimes unexpected realities of war---soldiers piled in the scorching sun, the wounded on stretchers, and POW camps full of enemies-turned-allies.
The fact that Jock Cobb was able to develop his photos at all--in the back of an ambulance, battling sand and enemy mortar--is incredible. His photos capture places in the news and at conflict again, including Libya, Tunisia, and Egypt, as Cobb provides a unique focus on war through the lens of pacifism in this compelling historic account." - Amazon.com review
With the U.S. engaging in multiple conflicts in the Middle East today, this book and its photographs offer not just a unique, but necessary perspective from a time when war was not such a casual concept. With the advent of 24 hour media coverage of war, it has become such that the graphic and shocking nature of conflict is taken more lightly, as it seems to be a regular, everyday happening. Jock's journey as a conscientious objector and ambulance driver through the perils of war in Syria, Tunisia, Italy and more, documented through photographs and personal testimonial, is an inspired and more true understanding of wartime. His photographs, which are accompanied by haikus, allow one to actually take time and think about the consequences of violent conflict and take a more human approach, away from the bombardment of the objectified media coverage exemplified today. The multiculturalism of his photos illustrate his involvement with his subjects and how one, even in a time of war, has the ability to hold on to what war has such a large capacity to take away, humanity. - Amazon.com review
Aren't we all looking for a kernel of peace, a grounding--inside ourselves, in nature, in the midst of our chaotic and crazy world--something we can hold onto that nurtures stillness and hope to carry us through all the rest? Jock Cobb's book, Fragments of Peace in a World at War, is such a kernel, just as I imagine Jock Cobb himself must have been that same kernel for his battalion. I had just picked up the book again to leaf through the pages--perhaps I was looking for some grounding--and then I dashed off on an errand. But the photos and the haiku came with me. They haunted me, in a good way, and I couldn't shake that ineffable sense of time and place half a century and half a world away, also in a good way. At a red light I wrote this haiku in an attempt to capture a sense of this amazing book and this amazing person:
World War II
Amidst huge chaos
Comes a man with photographs
And peaceful haiku
Simple, understated, as with haiku ... a tease for you to get this book for yourself and hold it up as a mirror. What peace do you bring to those around you and to the world? - Amazon.com review
About Jock Cobb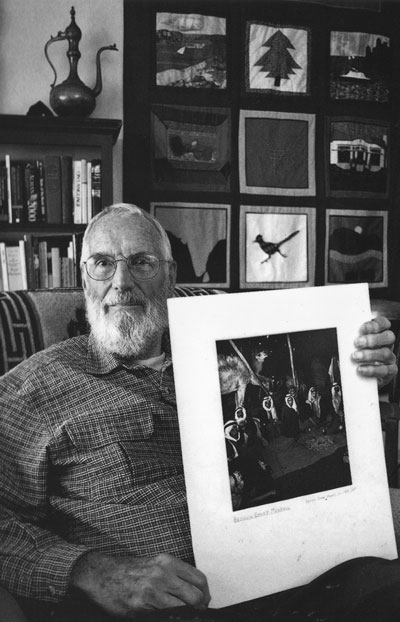 Dr. John C. (Jock) Cobb, MD, MPH, was born in Boston in 1919. After graduating from Harvard with a degree in astronomy, he served in Quaker work camps in Mexico, where he worked on earthquake relief and public health. In World War II, Jock served as a volunteer ambulance driver with the American Field Service in Syria, North Africa, and Italy. Returning home in 1944, he earned a medical degree from Harvard and trained in Pediatrics and Public Health at Johns Hopkins. His career was marked by work with the Indian Health Service in New Mexico, the Population Council in Pakistan, the World Health Organization in Tunisia, Indonesia, and Fiji, and as Professor and Chairman of Preventive Medicine at the University of Colorado Medical School. He passed away in 2016, surrounded by family in Albuquerque.